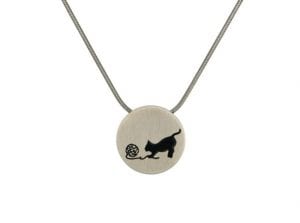 When someone you care about is mourning the loss of a pet, it can be difficult to know what to say or how to help. Just as with any loss, in most cases, the best thing you can do is to let your friend or family member know that you are thinking of them and that they can turn to you for support. One way to show this support is with pet bereavement gifts. These gifts can come in many shapes and sizes, but they all show love and concern by recognizing the loss of a beloved companion.
At Yadkin Valley Pet Funeral Services, we offer a variety of pet bereavement gifts, including plaques, memorial stones, resin figurines, and jewelry. Within our jewelry selection, you'll find something for anybody, such as key chains, personalized beads, necklaces and charms. By selecting the perfect gift, your friend or family member will see that you care and can use that concern to help them heal.
Here are some other ideas for comforting a grieving loved:
Write them a card with a favorite memory or story about the pet. Be sure to focus on your friend and their pet instead of sharing your own experiences with your pets. This lets them know the focus is on them and their loss.
If you have one, share a favorite picture of their pet accompanied by a kind thought on your friend's favorite social media platform.
Remind the owner that they gave the pet a happy, comfortable life. If for some reason, the pet's owner had to put their companion to sleep, this reassurance may be especially helpful.
At Yadkin Valley Pet Funeral Services, we are happy to help you in any way that we can in your efforts to comfort a grieving friend.